Grace Hopper Celebration Recap
Last month, I had the opportunity to attend and speak at the 2022 Grace Hopper Celebration. This was my very first time attending this conference in person after attending virtually last year. This was the largest conference I have ever been to and it definitely had a lasting impact on me.
About GHC
The Grace Hopper Celebration (GHC) is a conference for women in computing. Notably, it is the largest gathering of women technologists in the world! This was the first in-person GHC since 2019 due to the pandemic. For the first time ever, GHC was a hybrid conference this year with both virtual and in-person attendees. The total number of in-person attendees hasn't been officially published yet but it was roughly thought to be at least 15,000 people from 80+ countries. The conference took place in Orlando, Florida.
Opening Plenary Session
The conference started out with an opening plenary session that featured a few keynotes. First up was AnitaB.org President and CEO Brenda Darden Wilkerson who kicked things off, talked about some of the challenges that have been faced over the past few years, and discussed the importance of the theme of this year's conference, "Next is Now". This was a very inspiring keynote that encouraged us all to be change makers and really think about how we can all contribute to technology to serve society with the highest good in mind. She emphasized the need for technology that is inclusive, ethical, and safe for all. This was a theme that came up during quite a few of the conference sessions as well. The next keynote speaker of the morning was the CEO and Founder of Insitro, Daphne Koller. She delivered a very interesting keynote about leveraging machine learning to make better predictions for both discovering and developing new pharmaceutical drugs. The last keynote of the opening session was delivered by Frances Haugen, a data scientist, engineer, and advocate for accountability and transparency in social media. This was a great, thought-provoking keynote in which Frances identified why there is an urgency for accountability in Big Tech and talked about her brave decision to blow the whistle on Facebook.
Conference Sessions
GHC is a very large conference and there were so many interesting sessions to choose from, it was definitely hard to pick what to attend at times! The thing I liked the most was the variety of the sessions available. In particular, there was a good mix of technical presentations and panels, hands-on technical labs, and sessions and panels that focussed on relevant topics for women in tech. As an example, some of the sessions I attended ranged from topics like cloud security and machine learning to the importance of building diversity, equity, and inclusion from the product up, creating products with social responsibility, and how to be a successful leader.
My First Time Speaking At GHC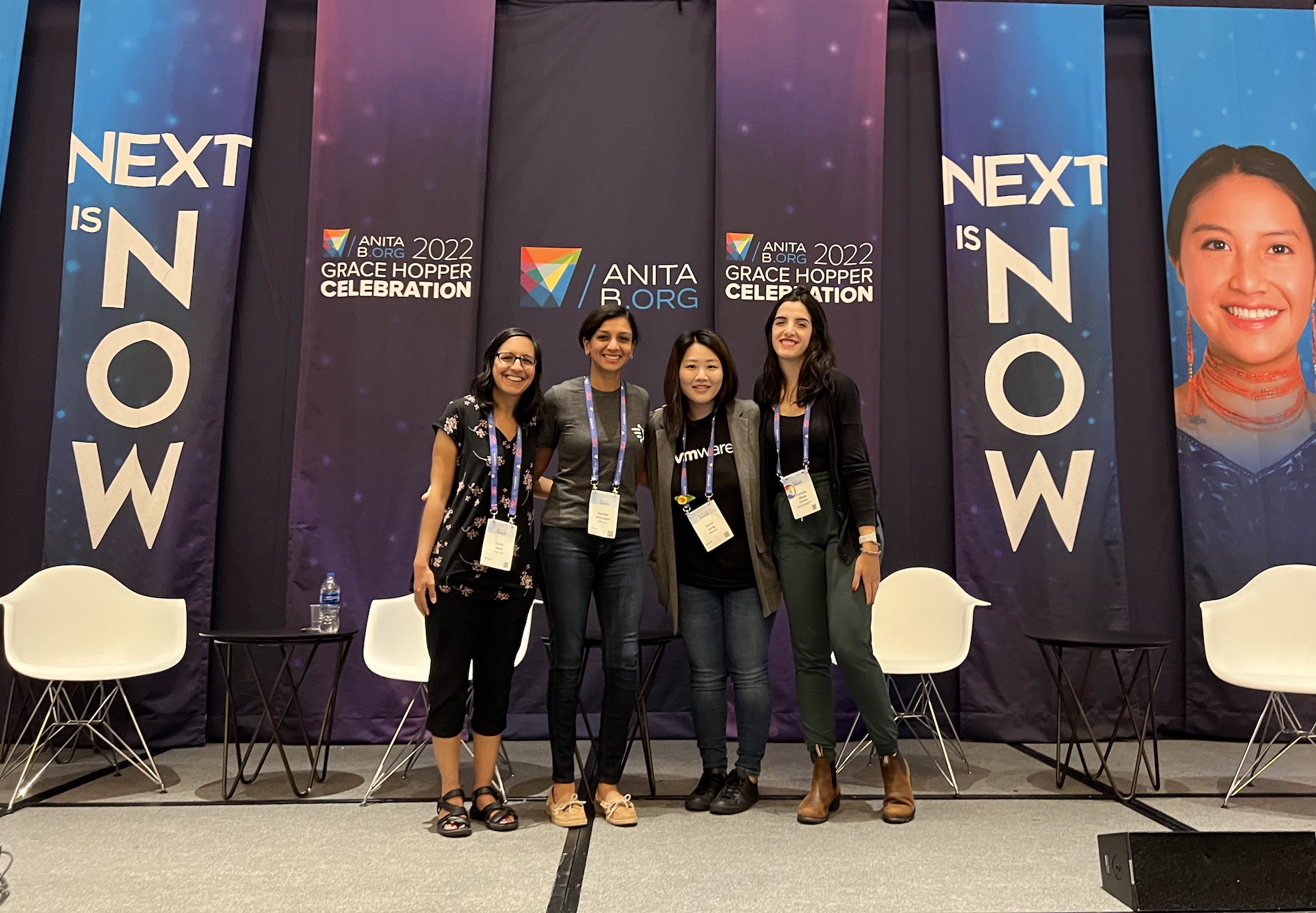 Not only was this the first time that I've attended GHC in person but this was also my very first time speaking at GHC! I had the opportunity to be a panelist at the "Maintainers' Guide to Open Source" along with Luciana Abud from Microsoft and Kavitha Srinivasan from Netflix. The three of us were also project representatives at Open Source Day, a pre-event that took place the week before GHC. The panel was moderated by Anna Jung from VMWare who was also one of the amazing co-chairs for Open Source Day. I really enjoyed getting to be part of this panel where we talked about what being a maintainer for an open source project entails, the steps we're taking to make our projects more inclusive, what it's like working with the community, and so much more.
Tips For Future Attendees
As I mentioned before, GHC is a very large conference! To get the most out of it, there are a couple things you could do to prepare in advance. First, the venue is quite large so come prepared to do a lot of walking. This is also something that was mentioned by the event organizers in the emails leading up to the conference.
It's also good to take a look at the venue maps in advance to get a sense of where things are. I found it useful to pick the sessions I wanted to attend the night before each day of the conference so I could figure out if it was possible to make it from one session to the next one on time or if I needed to pick a different session instead. For example, getting from the Orange County Convention Center to the Hyatt Regency ballrooms wasn't fast so it was better not to try to attend back to back sessions that were split between these two locations unless there was enough of a gap to make it on time.
Finally, it's common for attendees to start lining up for sessions about half an hour before they begin. This wasn't something that I realized ahead of time and there were a couple sessions on the first day that I wasn't able to get into because they reached capacity. Being aware of this helped me get into most of the sessions I wanted to attend during the rest of the conference.